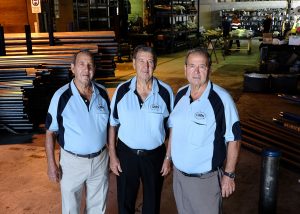 QMN Manufacturing (QMN) is an Australian family owned company which commenced business in Ayr, Queensland as a small engineering workshop with just five employees on the 27th June, 1984. Today, QMN employ over twenty seven staff, and have established an outstanding reputation across the Australian hydraulic industry for their quality, innovation and manufacturing excellence. QMN are one of the largest producers of quality hydraulic cylinders and components nationally.
QMN continues to be steered by a long standing and professional senior leadership team. This team consists of the original company directors from the Nucifora family who have a combined experience greater than 90 years between them.
QMN's goals are to:
Be the leading quality hydraulic cylinder Brand of choice in Australia
Provide for a safe working environment for their employees
Ensure the work they perform is not detrimental to the environment
Ensure they deliver the highest levels of service and commitment to their customers and suppliers
Support the local community.
QMN have proven capabilities to execute and deliver large projects across multiple organisations and original equipment manufacturers to time, cost and scope. QMN operate machines and robotics sourced by world leading brands to reduce costs and improve product quality, performance and reliability. Such equipment includes steel saws, CNC lathes, milling and welding machines.
QMN manufacture a complete range of agri and industrial hydraulic cylinders 1.5" to 5" and can manufacture on demand special cylinders up to 9" in diameter. With this capability and a current capacity to produce 20,000 hydraulic cylinders each year, as well as the ability to scale to over 40,000 cylinders per year, QMN has the infrastructure, resources and storage capacity to maintain supply for all your hydraulic cylinder and engineering needs.
Some of our Key Staff